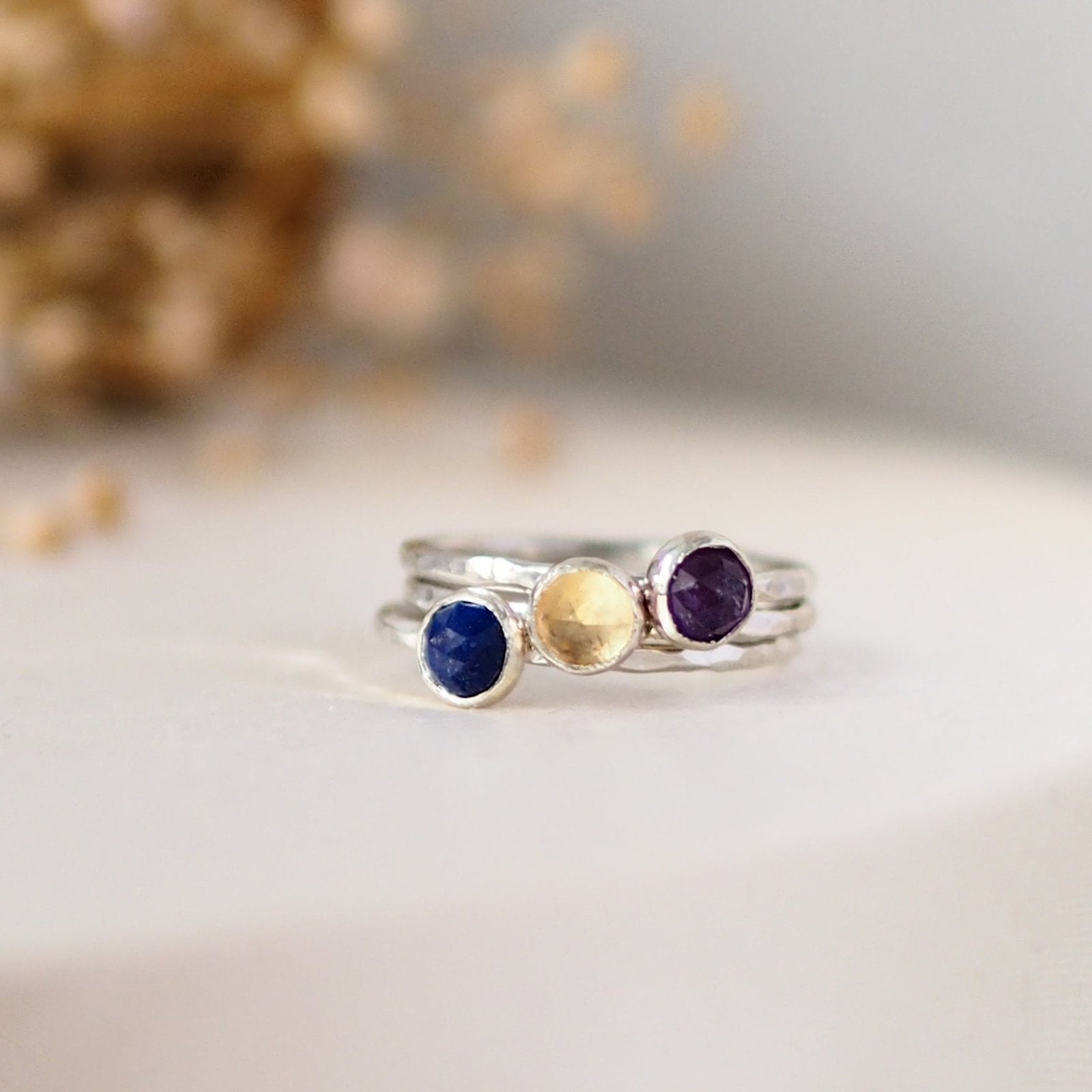 Handmade Cosmos Sterling Silver Stacking Ring Set
Introducing our Cosmos Sterling Silver Stacking Ring Set, a celestial-inspired collection that captures the enchanting beauty of the starlit heavens above. This set includes three handcrafted rings adorned with exquisite gemstones: Amethyst, Citrine, and Lapis.
The Amethyst ring emanates a soothing purple hue, symbolising clarity and spiritual growth. The Citrine ring shines with a radiant golden glow, representing abundance and positive energy. The Lapis ring showcases a deep blue reminiscent of the night sky, signifying wisdom and truth.
Each ring is expertly crafted by hand using high-quality Sterling Silver, ensuring durability and timeless elegance. The set offers the versatility to wear the rings individually, allowing you to showcase the unique beauty of each gemstone. Alternatively, you can unleash your creativity and customise your stacking set by pairing them with other rings from your collection, creating a personalised style that is truly your own.
Whether you seek a touch of celestial charm for everyday wear or desire to make a statement on special occasions, our Cosmos Sterling Silver Stacking Ring Set is a perfect choice. Embrace the magic of the cosmos and let these rings adorn your fingers with their celestial allure.
| | |
| --- | --- |
| Size: |  Gemstone: 5mm Rosecut Cabochon, Band: 1.5mm thick |
| Material: | Solid Sterling Silver |
| Gemstone: | Amethyst, Citrine & Lapis |
| Birthstone: | February, November, September  |
Each Ring is Handmade in our dedicated workshop, please allow for slight variations to the image shown.
Each Ring is made to order, please allow 3-5 working days before dispatch.
Handmade Cosmos Sterling Silver Stacking Ring Set